Profile
Professor James Mark
M.Phil. D.Phil. (Oxon)
Professor
4295
01392 724295
My research addresses the social and cultural history of state socialism in central-eastern Europe, the politics of memory in the area during both socialism and post-socialism, and the global history of eastern Europe. Most recently my work has focussed on rethinking Eastern European history in the context of Empires and their ends. Where does the region's experience of decolonisation, nation building, re-occupation, violence and liberation fit within a global history of Empires and their ends - across the twentieth and twenty first centuries?
My publications include:
A collectively researched and written monograph, Socialism Goes Global. The Soviet Union and Eastern Europe in the Age of Decolonisation, will be published by Oxford University Press in Winter 2022. Excerpt here.
A monograph, 1989. A Global History of Eastern Europe, written with my colleagues Bogdan Iacob, Tobias Rupprecht and Ljubica Spaskovska to co-incide with the thirtieth anniversary of the 1989 revolutions, was published by Cambridge University Press in September 2019. There are reviews here here here here here here and here .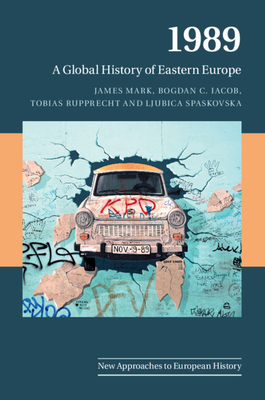 We discuss some arguments from the book in the journal Eurozine in The Struggle Over 1989. For interviews about the book in English, English, English, English, English, Lithuanian, Lithuanian, Czech and Czech. It is discussed on this radio show.
Artemy Kalinovsky, Steffi Marung and I have co-edited a collection for Indiana University Press on the way in which socialism connected the world: Alternative Globalizations. Eastern Europe and the Postcolonial World (Bloomington: Indiana University Press, 2020)
There are reviews here, here, here, and here.
I have recently been a Principal Investigator on three research projects. The first is a Leverhulme Research Leadership Award (2014 – 2019): '1989 after 1989: Rethinking the Fall of State Socialism in Global Perspective'. This has brought a team of four research fellows, and two PhD students, to Exeter. Together we have undertaken a range of projects which aim to place the end of state socialism in both longer-term and global contexts, connecting this major historical transformation to broader political, economic and cultural processes of the late 20th and early 21st centuries.
The second is an Arts and Humanities Research Council (UK) funded project, in collaboration with six other institutions and ten colleagues: 'Socialism Goes Global: Cold War Connections Between the 'Second' and 'Third Worlds'' (2015-20). This explores the political, economic and cultural encounter between eastern Europe and the decolonising world from 1945. See our 'Tito in Africa' exhibition: https://www.muzej-jugoslavije.org/en/exhibition/tito-u-africi-slike-solidarnosti/ . For an interview in Romanian on the project.
The third is an AHRC-Labex funded Franco-British project, Criminalization of Dictatorial Pasts in Europe and Latin America in Global Perspective (2016-2020). This project analyses the criminalisation of dictatorial pasts in Europe and Latin America since 1945. It considers how justice and historical narratives are produced across multiple professions, networks and spaces; and way they ideas and practices of dealing with the past have traveled across and between regions, and on a global scale. In 2020, we published an open-access collection on the global crisis in liberal memory, and how it has been challenged by populist and decolonial approaches to remembering the past.
I am currently an elected Senator representing the College of Humanities (2018-2022).
Research interests
I have been working on a number of books:
1. (with Péter Apor) on a history of Hungary between the colonial and anti-colonial worlds for CUP.
2. (with Artemy Kalinovsky and Steffi Marung, (eds.) Alternative Globalistions. Eastern Europe and the Postcolonial World (Bloomington: Indiana University Press, 2019)
3. (with Ljubica Spaskovska, Tobias Rupprecht and Bogdan Iacob) 1989. A Global History of Eastern Europe (CUP, 2019)
4. (with Paul Betts, eds.) on Socialism Goes Global: the Soviet Union and Eastern Europe in the Age of Decolonisation
Over the past decade, I have published on the way in which history gets recast at moments of major political change, addressing the ways in which political elites, cultural institutions, institutes of memory, and ordinary people have contributed to the re-imagining of the past after the fall of Communism in eastern Europe after 1989. This resulted in: The Unfinished Revolution: Making Sense of the Communist Past in central-eastern Europe. It was shortlisted for the 2011 Longman History Today Book Prize, and chosen as one of the 'best books of 2011' by Foreign Affairs. It was discussed on BBC Radio 4, http://www.bbc.co.uk/iplayer/console/b011jv8c
I have also co-authored a monograph titled 'Europe's 1968: Voices of Revolt': it is a work that incorporates the socialist east and Mediterranean dictatorships into a comparative and transnational account of the activisms of the1960s and 1970s
I have recently co-edited a volume on new approaches to addressing the memory and history of collaboration in Communist Eastern Europe
Research supervision
I am willing to supervise work on the social, cultural and political history of modern central-eastern Europe. I am particularly keen to work with research students who are interested in the socio-cultural and memory studies approaches to the study of state socialism and post-socialism, and in connecting the region to broader global histories and processes through transnational and comparative methods. I can also offer particular expertise in the use of oral history and the source bases created by state socialism.
Research students
Recent and current PhD students:
Anna Calori, Yugoslav and post-Yugoslav workers and privatisation
Bálint Tolmár, oil and energy in late socialist Hungary
Ljubica Spaskovska, studying supranationalism in late socialist Yugoslav and post-Yugoslav cultures
Agata Drelova, studying national memory and religion in late socialist and post-socialist Slovakia.
James Koranyi, studying postwar identities of the Romanian Germans

Anna Sheftel, studying the politics of memory and reconciliation in post-conflict Bosnia

Karoly Konecsny, studying the German occuaption of Hungary in 1944.

Biography
I completed my BA in History, M.Phil. in Russian and East European Studies and a D.Phil. at the University of Oxford. I have worked in the History Department at Exeter since 2004.